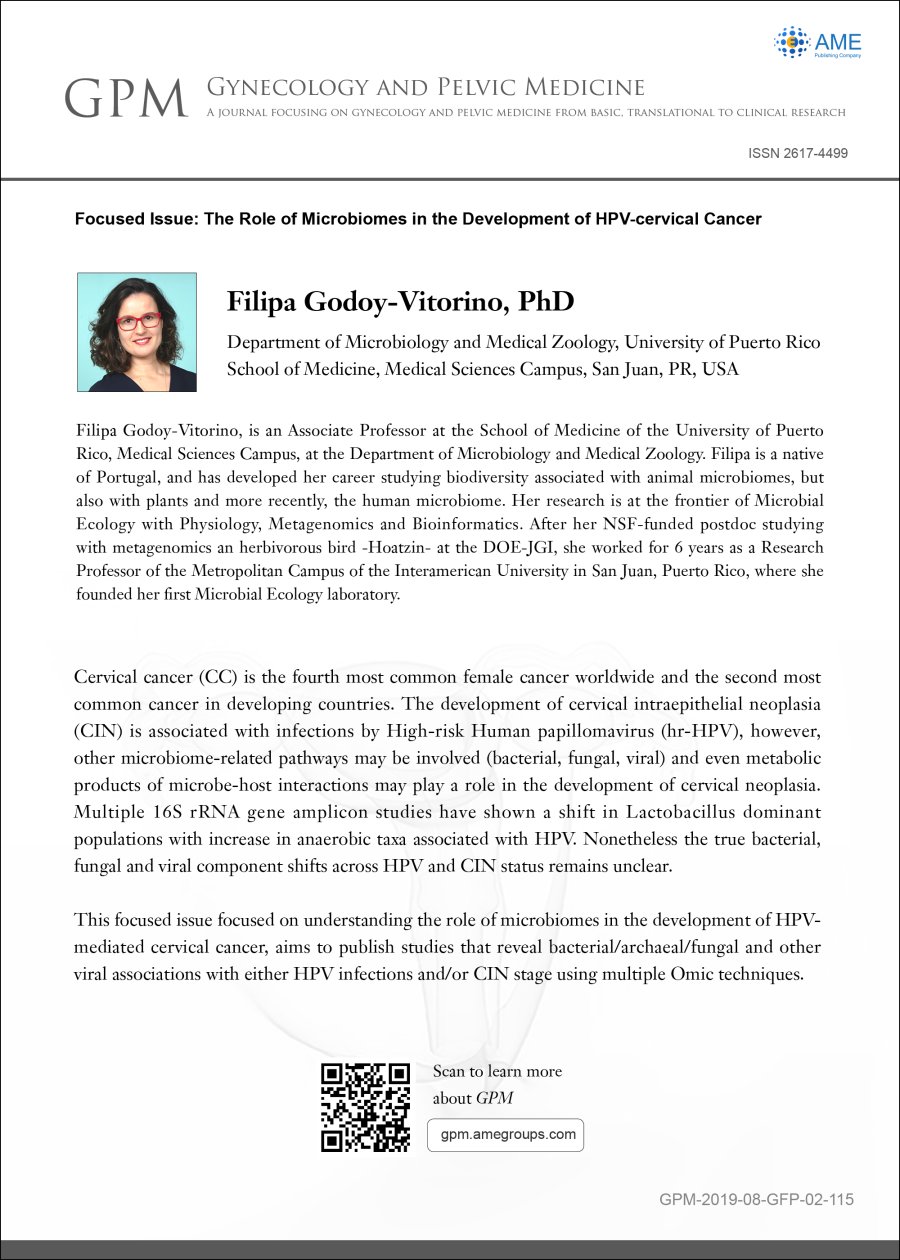 This focused issue on "The Role of Microbiomes in the Development of HPV-cervical Cancer" is edited by Dr. Filipa Godoy-Vitorino, from Department of Microbiology and Medical Zoology, University of Puerto Rico School of Medicine, Medical Sciences Campus, San Juan, PR, USA.
Filipa Godoy-Vitorino, is an Associate Professor at the School of Medicine of the University of Puerto Rico, Medical Sciences Campus, at the Department of Microbiology and Medical Zoology. Filipa is a native of Portugal, and has developed her career studying biodiversity associated with animal microbiomes, but also with plants and more recently, the human microbiome. Her research is at the frontier of Microbial Ecology with Physiology, Metagenomics and Bioinformatics. After her NSF-funded postdoc studying with metagenomics an herbivorous bird -Hoatzin- at the DOE-JGI, she worked for 6 years as a Research Professor of the Metropolitan Campus of the Interamerican University in San Juan, Puerto Rico, where she founded her first Microbial Ecology laboratory.
Her laboratory at the UPR currently characterizes microbiomes using various Omic techniques to understand the co-evolution, transmission and functions of microbial-host symbioses in a wide variety of phenotypes and systems.
Cervical cancer (CC) is the fourth most common female cancer worldwide and the second most common cancer in developing countries. The development of cervical intraepithelial neoplasia (CIN) is associated with infections by High-risk Human papillomavirus (hr-HPV), however, other microbiome-related pathways may be involved (bacterial, fungal, viral) and even metabolic products of microbe-host interactions may play a role in the development of cervical neoplasia. Multiple 16S rRNA gene amplicon studies have shown a shift in Lactobacillus dominant populations with increase in anaerobic taxa associated with HPV. Nonetheless the true bacterial, fungal and viral component shifts across HPV and CIN status remains unclear.
This focused issue focused on understanding the role of microbiomes in the development of HPV-mediated cervical cancer, aims to publish studies that reveal bacterial/archaeal/fungal and other viral associations with either HPV infections and/or CIN stage using multiple Omic techniques.