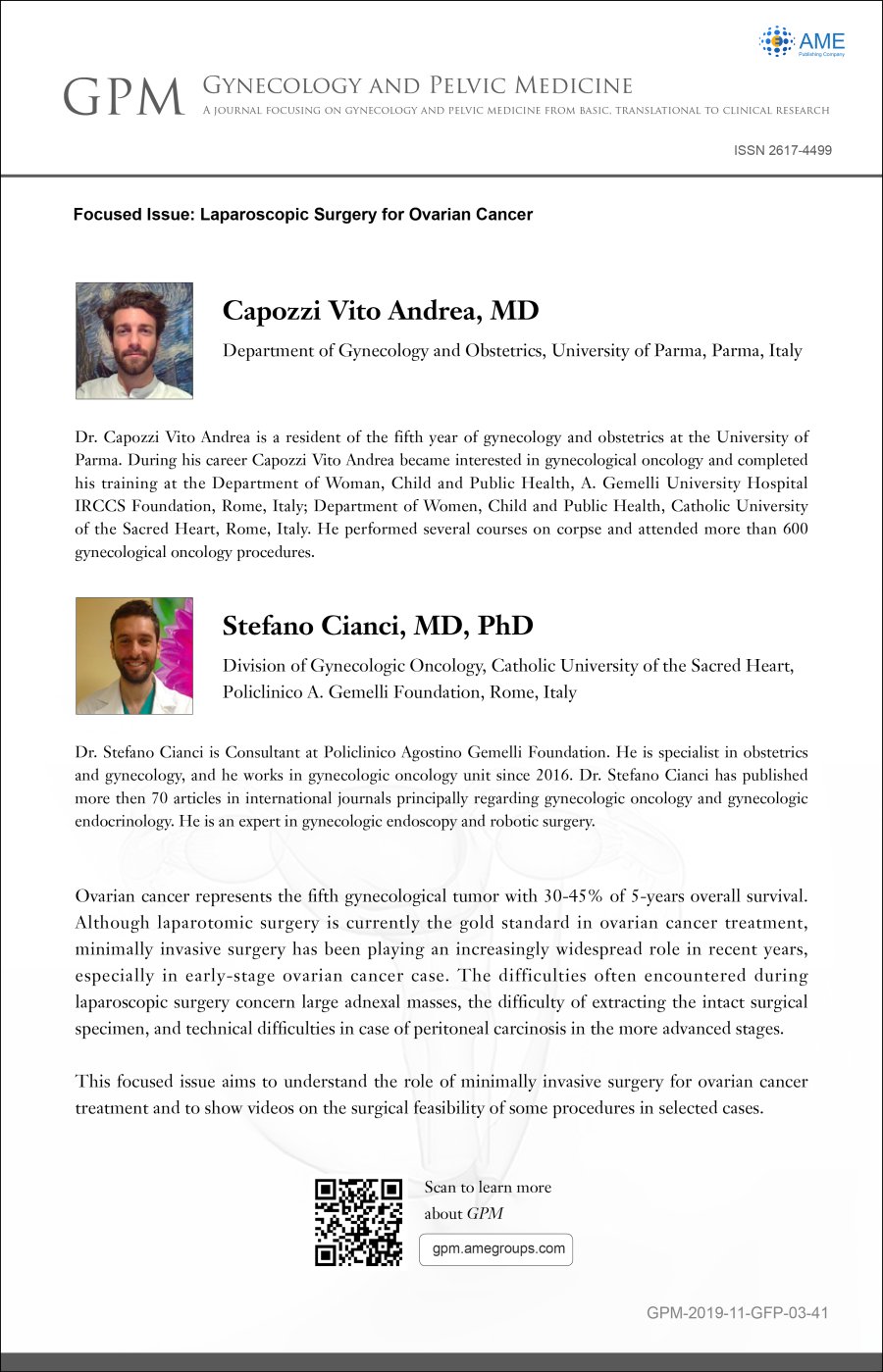 This focused issue on "Laparoscopic Surgery for Ovarian Cancer" is co-edited by Dr. Capozzi Vito Andrea, from University of Parma, and Dr. Stefano Cianci, from Catholic University of the Sacred Heart, Policlinico A. Gemelli Foundation.
Dr. Capozzi Vito Andrea is a resident of the fifth year of gynecology and obstetrics at the University of Parma. During his career Capozzi Vito Andrea became interested in gynecological oncology and completed his training at the Department of Woman, Child and Public Health, A. Gemelli University Hospital IRCCS Foundation, Rome, Italy; Department of Women, Child and Public Health, Catholic University of the Sacred Heart, Rome, Italy. He performed several courses on corpse and attended more than 600 gynecological oncology procedures.
Dr. Stefano Cianci is Consultant at Policlinico Agostino Gemelli Foundation. He is specialist in obstetrics and gynecology, and he works in gynecologic oncology unit since 2016. Dr. Stefano Cianci has published more then 70 articles in international journals principally regarding gynecologic oncology and gynecologic endocrinology. He is an expert in gynecologic endoscopy and robotic surgery.
Ovarian cancer represents the fifth gynecological tumor with 30-45% of 5-years overall survival. Although laparotomic surgery is currently the gold standard in ovarian cancer treatment, minimally invasive surgery has been playing an increasingly widespread role in recent years, especially in early-stage ovarian cancer case. The difficulties often encountered during laparoscopic surgery concern large adnexal masses, the difficulty of extracting the intact surgical specimen, and technical difficulties in case of peritoneal carcinosis in the more advanced stages.
This focused issue aims to understand the role of minimally invasive surgery for ovarian cancer treatment and to show videos on the surgical feasibility of some procedures in selected cases.