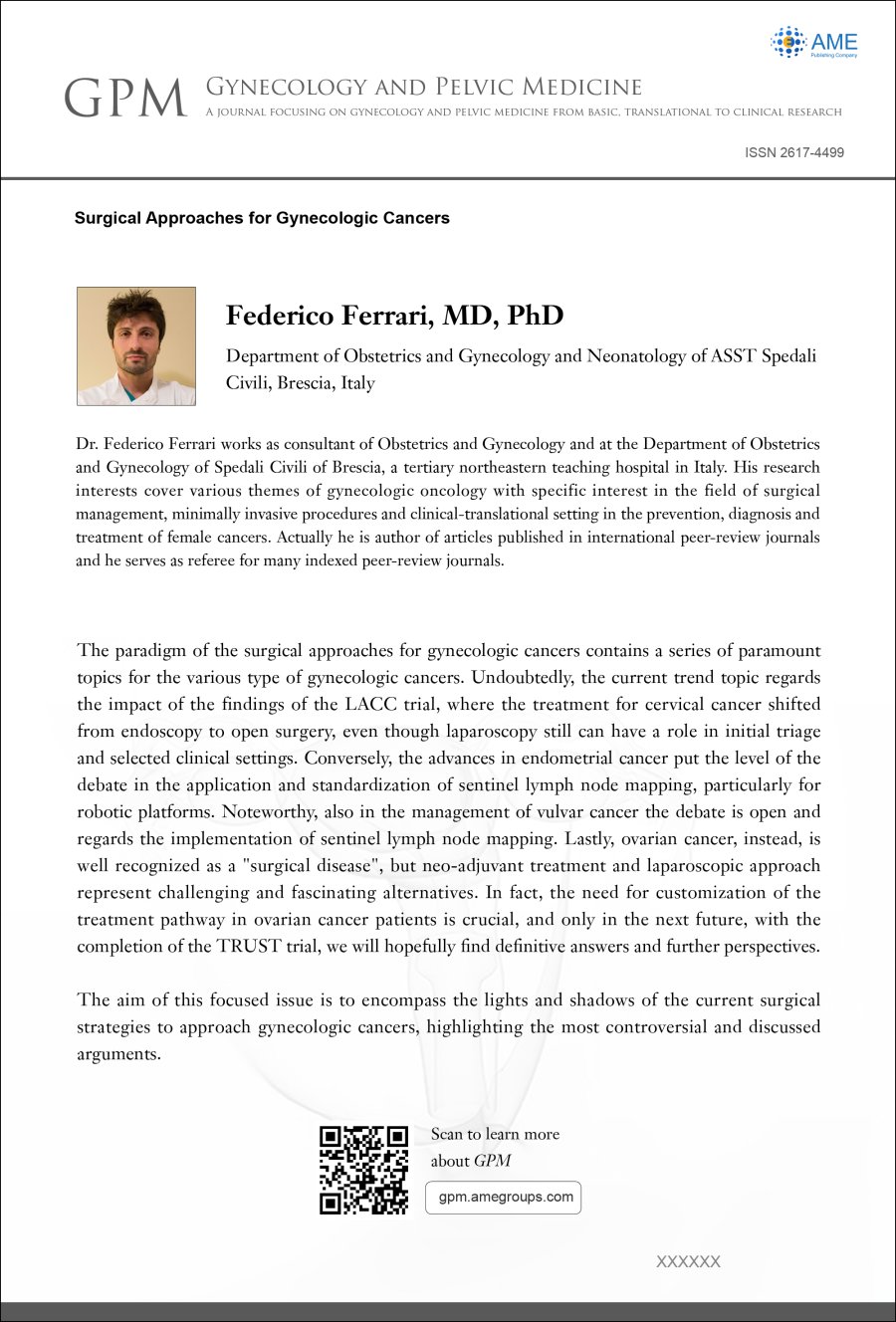 This focused issue on "Surgical Approaches for Gynecologic Cancers" is edited by Dr. Federico Ferrari, MD, PhD, from Department of Obstetrics and Gynecology and Neonatology of ASST Spedali Civili, Brescia, Italy.
Dr. Federico Ferrari works as consultant of Obstetrics and Gynecology and at the Department of Obstetrics and Gynecology of Spedali Civili of Brescia, a tertiary northeastern teaching hospital in Italy. His research interests cover various themes of gynecologic oncology with specific interest in the field of surgical management, minimally invasive procedures and clinical-translational setting in the prevention, diagnosis and treatment of female cancers. Actually he is author of articles published in international peer-review journals and he serves as referee for many indexed peer-review journals.
The paradigm of the surgical approaches for gynecologic cancers contains a series of paramount topics for the various type of gynecologic cancers. Undoubtedly, the current trend topic regards the impact of the findings of the LACC trial, where the treatment for cervical cancer shifted from endoscopy to open surgery, even though laparoscopy still can have a role in initial triage and selected clinical settings. Conversely, the advances in endometrial cancer put the level of the debate in the application and standardization of sentinel lymph node mapping, particularly for robotic platforms. Noteworthy, also in the management of vulvar cancer the debate is open and regards the implementation of sentinel lymph node mapping. Lastly, ovarian cancer, instead, is well recognized as a "surgical disease", but neo-adjuvant treatment and laparoscopic approach represent challenging and fascinating alternatives. In fact, the need for customization of the treatment pathway in ovarian cancer patients is crucial, and only in the next future, with the completion of the TRUST trial, we will hopefully find definitive answers and further perspectives.
The aim of this focused issue is to encompass the lights and shadows of the current surgical strategies to approach gynecologic cancers, highlighting the most controversial and discussed arguments.
Disclosure:
The series "Surgical Approaches for Gynecologic Cancers" was commissioned by the editorial office, Gynecology and Pelvic Medicine without any sponsorship or funding. Federico Ferrari is serving as the unpaid Guest Editor for the series.